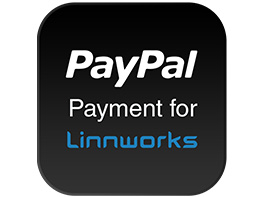 PayPal Documentation
Pro Edition: Up to 100 orders/Month
£10+VAT/Month
Enterprise Edition: Up to 500 Orders/Month
£45+VAT/Month
Step 1: Introduction
• PayPal it is an application which is embedded in Linnworks.Net, and developed by Ebusiness Guru Ltd.
• It is used to take payments for Direct Unpaid orders in Linnworks.Net.
Step 2: How to install the App in Linnworks
• To use PayPal, you must first install it from within Linnworks.net
      a) Login to Linnworks.net
      b) Select
Settings
in the left-hand menu bar
      c) Select the
Application
Store option
      d) Click on
"PayPal Payment for Linnworks"
      e) Click on
Install
, to add PayPal
Step 3: How to open PayPal App
• First, Login to Linnworks.
• In the left menu, there are different buttons. Select the one at the bottom labeled Paypal to open it.
• Registration page open. User have to rick mark on terms and condition and need tp press Register Now button.
Step 4: Home Screen
• The Home screen has a menu with the following options:
a) Linnworks Direct Orders
b) PayPal Configuration
c) PayPal Payment History
d) Purchase Credit
e) Documentation

Step 5: Linnworks Direct Orders
• After clicking the PayPal App button, you are directed to a page as shown below.
• In this screen, you will find a list of Direct Orders that payment status is Not Paid in Linnworks.
     a) View Order :
        • Once you press this button View Order will display Linnworks direct order information.
     b) Pay :
        • From list of orders, any order payment user want to take from PayPal then they have to press Pay button.
        • Then user redirect to another page have button PayPal Check out.


        • Once user press PayPal Check out next page displayed on screen have option to define your PayPal account details. User have to define Paypal detail of customer who pay for this order amount.


        • Once PayPal account details enter and that details are correct, it will login in your account for payment and ask for confirmation.


        • After click on continue payment transfer to User PayPal account and user redirect to PayPal app > Linnworks Direct Orders.
        • User want to take another payment then follow same process.

Step 6: PayPal Configuration
• User has to open website
https://developer.paypal.com/
and need to press Log In.
• User redirect to PayPal Log In page. On this page user have to enter Email , Password. Then user needs to press Log in button.
• After successful login need to click on Dashboard.
• After click on Dashboard, user redirect to Dashboard of PayPal. In that page click on your app Name which you want to Integrate. Or create new App by clicking on Create App button. In REST API apps section.
• After clicking on App Name the
Client ID
and after clicking Show button
Secret Key
displayed on screen.
• User have to select
Client ID
and
Secret
for enter in PayPal Configuration.
Step 7: PayPal Payment History
• This page display list payments taken via this PayPal App from Linnworks.Net.
• Date range also available for checking previous payments taken via this Paypal App from Linnworks.Net

Step 8: Purchase Credit
• Messages are sent using credits from your account. There are subscription levels, corresponding to different monthly credit balances.

• If you are just starting, or if no need to upgrade your subscription because your needs have grown, simply click on the required subscription, and then use the Submit button.

Step 9: Documentation
• This link takes you to this User Manual.