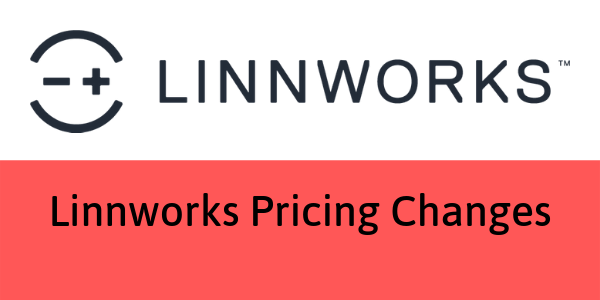 Linnworks price structure changes significantly from today. If you're one of the sellers using Linnworks and reading this, you're bound to be thinking about how this will affect you. The change comes as they move away from the user-based model at £150 + VAT per month.
What you need to know:
Linnworks have posted about these changes on their website, but here's a quick overview:
The new plan is based on the number of orders processed per month
There's a cap on the number of SKUs in the Standard and Advanced tiers
There's a fair usage policy – so there might be specific pricing changes on a case by case model for users with lots of complex information stored per SKU
The full pricing plan is here – go check it out
When will this kick in?
It starts from today – 21st May 2019. Existing customers get a 3-month grace period, after which you will be transferred onto the new plan.
What if I have signed up and paid in advance for a 12-month agreement because of the 20% discount?
Your term will continue as is. You will be reminded 3 months early that you need to transition to a new tariff when your term ends.
As an existing Linnworks user, will there be any incentives for me to switch early?
If you switch in the 3-month grace period (even at the end of your 12-month agreement) then your plan will be adjusted.
What else does this mean as an eBusiness Guru customer?
We'll be working closely with Linnworks during this time, and we'll be supporting our customers as usual. We do expect the majority of our customers to be paying roughly the same on the new pricing plan. Some may see increases, but we expect numbers who will see significant increases to be minimal. However, we can't speak for everyone here – your businesses are all very different, after all!
The main thing to remember right now is, there's no need to panic. You've got a 3-month grace period as an existing customer. But if you want to talk to us, (and you've reviewed the information from Linnworks!) email us. We want to ensure you're comfortable and have the right tools for your business. That's why we're arranging discussions by phone or Skype in the early part of next week.
Update
Current Linnworks customers voiced their opinions to Linnworks rather fiercely about this price update. As a result, Linnworks issued an update on 28th May, telling customers they had taken this feedback on board. They have now announced that current customers will be able to stay on their current user-based plan for at least the next two years, with a maximum 20% price increase in the third year. However, customers can choose to move to the new order-based plan, if it works better for them. If you're unsure which is best for your business, you can get in touch with us.