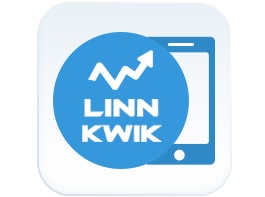 With LinnKwik, your business is never any further than the smartphone in your pocket. Powerful, intuitive reporting tools let you see the orders your team are processing, as well as channel sales and product sales figures. Customise reports to get a clearer view of your sales, and identify strengths and weaknesses your team may have missed.
Created by eBusiness Guru Documentation by M Canty V1.1 Updated 30/06/2016 USER'S MANUAL TABLE OF CONTENTS
Packages Available (ex vat)
£5 per month/ £50 per year
LinnKwik for Linnworks Users
LinnKwik is designed to assist online sellers using Linnworks in keeping an eye on the performance of their business wherever they are. It gives you access to powerful and intuitive reporting and analysis tools to help you identify strengths and weaknesses, allowing you to target weak areas for attention, and reinforce areas of strength. It offers a range of customisation options, allowing each user to tailor it to their requirements when evaluating the data about their business.
The user must login before entering the application. Tick Remember Me if this is a device only you use, and it will remember your login details after exiting.
Generate Token
If the user hasn't generated a Linnworks token, then they will be redirected to the below page and can generate a token using the Generate Token button. Click Submit to apply the token. Only then can you use the application.
If you have forgotten your password, then you can retrieve your password by using the Recover my password link.
The Registration Page
Once the initial connection is in place, you'll need to register for the application. On the registration page, you should enter your Company Name, Registered Email and Password to sign up for a subscription.
LinnKwik currently offers you following report to analyse the status and performance of your business:
Total Orders
Top Selling Channels
Top Selling Products
Total # of transactions
Avg. Products and Avg. Transactions
Total Orders
This report analyses your daily sales performance.
Total Orders
This report offers you details relating to the Total number of paid orders received by Linnworks for a given period. This period can be:
Today
The last 7 days
The last 30 days
Order List
This reviews open and processed orders received. Fields shown are:
Order Number
Order Status
Source
SubSource
Order Date
Order Items
Order Details
This screen allows you to review the content and details of a selected order.
Top Selling Channels
This report analyses Sales performance by Channel. It uses the total revenue value of the orders, and can show 3 periods:
Today
The last 7 days
The last 30 days
Tap on a channel entry for further information.
Top Selling Channels Detail
This shows detailed order information for a channel selected for further information in Top Selling Channels. Details can be represented graphically.
Top Selling Products
This report reviews and summarises product sales for a given period. It reviews these results in figures or graphically. Periods covered are:
Today
The last 7 days
The last 30 days
Total # of transactions
User can see the total # of transaction occurs in terms of sales, cancellation, exchange and refund. Tap a result for more details.
This report covers transaction activity:
Sales
Cancellations
Exchanges
Refunds
Total # of transactions detail
This report is a detailed breakdown of the information from the Total # of Transactions report above.
Avg. Products and Avg. transactions
This report covers the specified period, and details the average numbers of products sold, and the average transaction value, including a graph. Tapping an entry returns more details.
Periods to select are:
Today
The last 7 days
The last 30 days
Avg. Products and Avg. transactions Detail
This shows the results selected in the Avg Products and Avg Transactions report above in more detail.