AMZ Peak is an app that connects to Linnworks to supercharge your product listings, data,
and performance on Amazon – the world's biggest online marketplace
AMZ Peak
Packages Available (ex vat)
£149.99 per month / £1649.99 per year
Amazon is currently the world's biggest online marketplace. There are over 40 million hits on their UK website alone daily. AMZ Peak is designed to help you get the edge on such a competitive market, with tools to help you to progress through the ranks and improve the performance of your Amazon listings.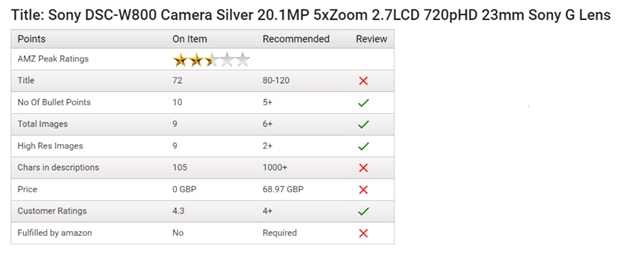 The tools contained within AMZ Peak are:
Listing optimization
Price comparison
Identify bullet point defects and suggest updates
Identify the top selling products for a given category sell against duplicate entries
Locate information on specific items in the Amazon catalogue
Identify similar items to a given entry to allow you to find and locate entries
Track all negative customer feedback reports for quick, effective customer service management
Identify low Amazon stock levels
Monitor Amazon sales reports from all sub-sources
AMZ Peak doesn't just alert you to potential issues on your listings, it also helps to ensure your listings have effective titles, competitive pricing, well used features (bullet points, etc), and compelling content to persuade people to buy from you.
AMZ Peak can be used alone to highlight where you can improve your listings; however, the recommendations will then need to be applied manually. AMZ Peak also connects with Linnworks, so Linnworks users can apply the recommended changes quickly.
AMZ Peak also offers best practice advice on the listing information and allows you to look up the products you don't sell yet, identify top sellers and even find duplicates to increase your sales by linking to the duplicate item and competitor's pricing, among other features.
AMZ Peak has a range of reporting tools. The Channel Wise Selling Reports help you to track all your Amazon sales activities from all of your different sub-sources under one roof; the Low Stock Reports works in conjunction with the Quality Reports tool to help you to monitor stock levels in order to help you maximize sales opportunities and avoid overselling, and the Negative Review Reports show all negative customer reviews and comments received to prevent any bad feedback from going unnoticed, thereby maximising your Amazon customer rating score and credibility.
Installing AMZ Peak:1. Log into Linnworks.net and click Settings.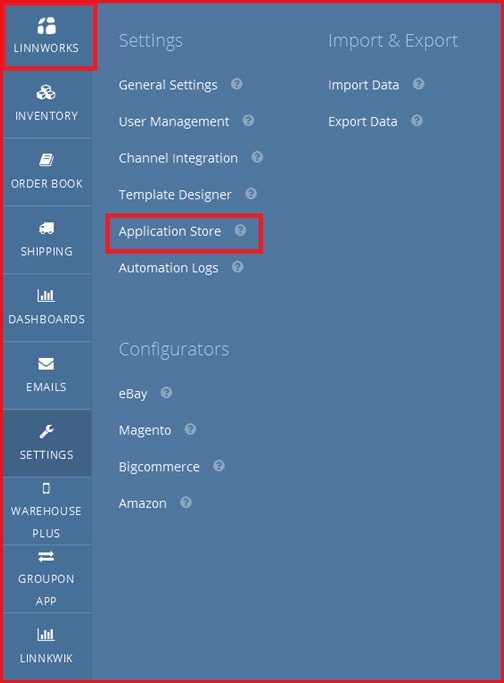 2. Click the Application Store.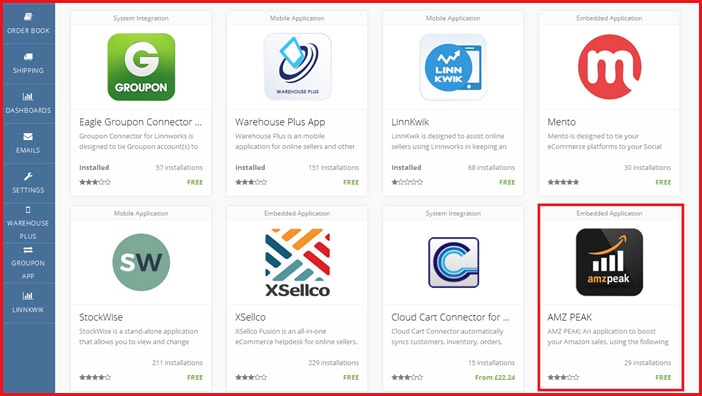 3. Locate AMZ Peak, then click to install.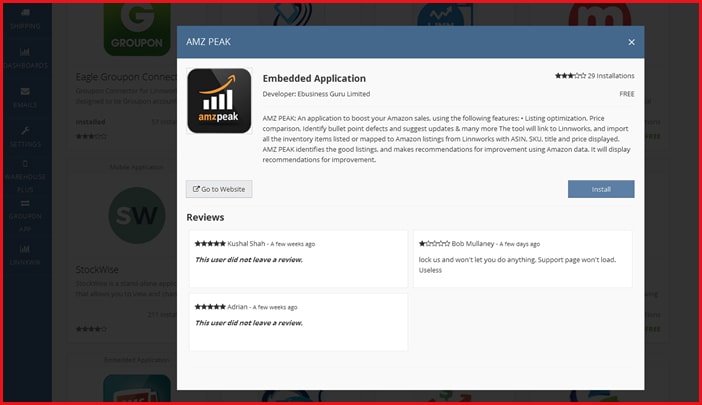 4. The AMZ Peak logo will now appear on the Linnworks sidebar. To complete the installation process, click Generate Token.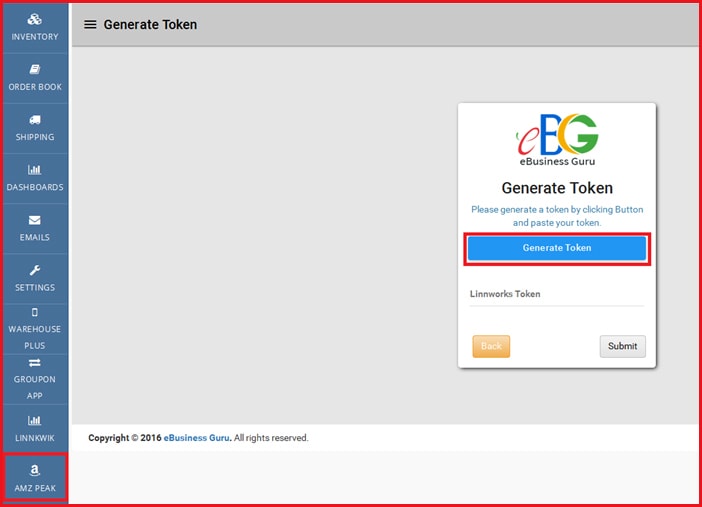 5. Enter your Linnworks credentials to complete the process.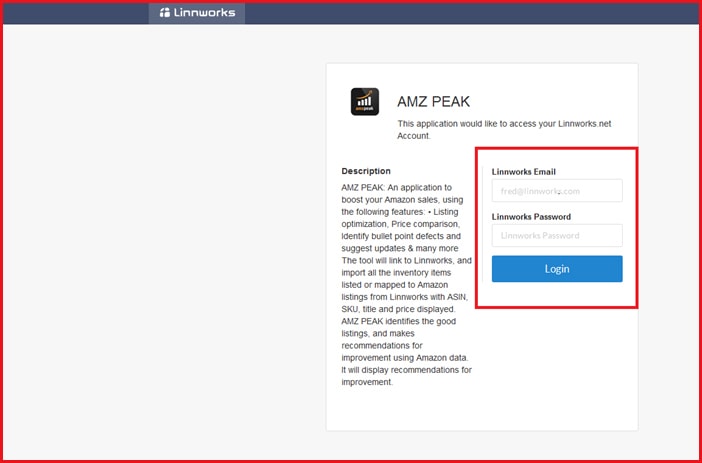 6. The Install button will be activated and turn green, enabling you to install AMZ Peak.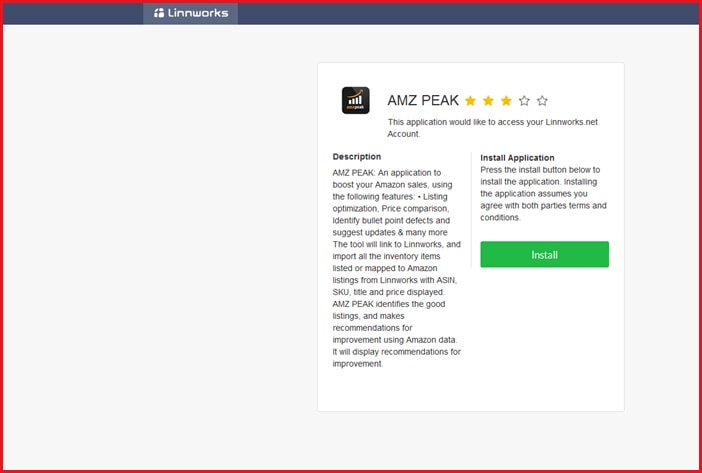 7. The pop up box confirms that the AMZ Peak application has successfully installed.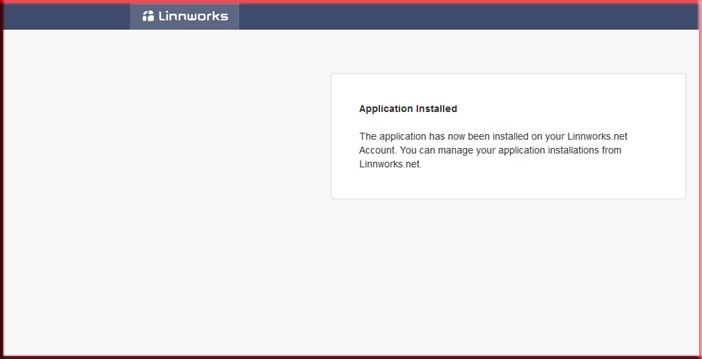 8. You should now see AMZ Peak on the Linnworks dock. (On the left, as shown below)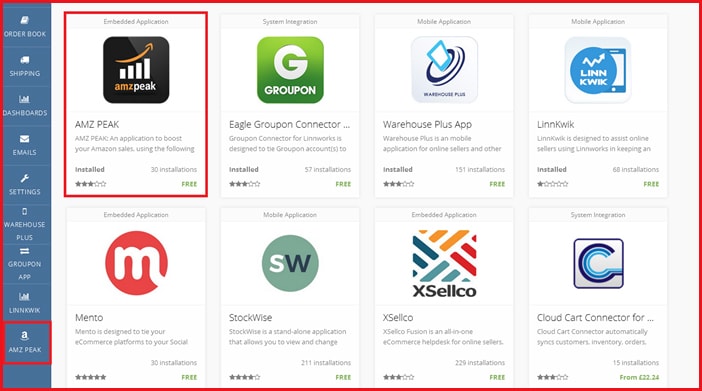 9. Close any AMZ Peak tabs running and press F5 to refresh your Linnworks.net account. You will now be ready to use the application.


Getting Started:1. Select your Amazon marketplace (e.g. amazon.ca (Canada)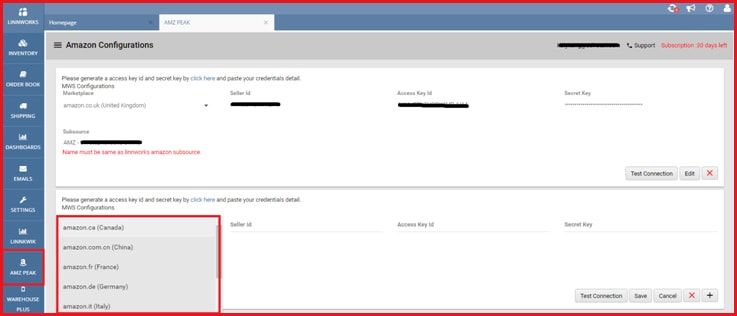 2. The Access Key ID and Secret Key are generated by clicking on the link (highlighted in blue, at the top of the box)


3. When you click the link, you will be redirected to the Amazon Seller Central portal. Sign in with your Amazon account to generate a token to put into the Access Key and Secret Key fields.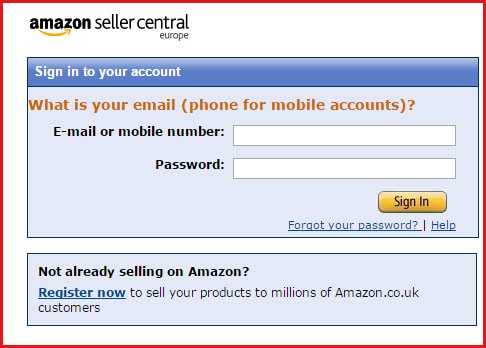 4. Enter your Amazon Seller ID to complete the configuration. Click Test Connection to check that the configuration is set up properly.


5. To add an additional Amazon Marketplace, click on the plus symbol.


Another box will appear (as below).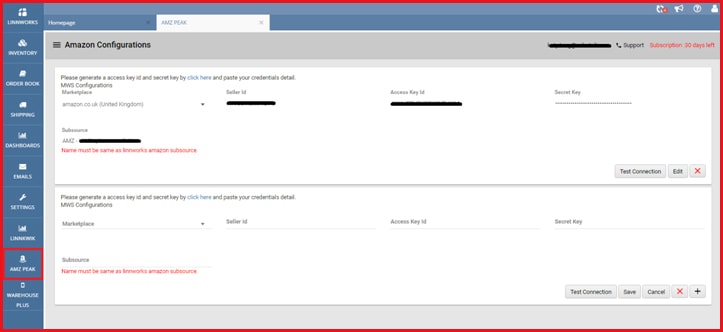 6. If you need to make changes to a configuration, click Edit on the screen.


Product Listing: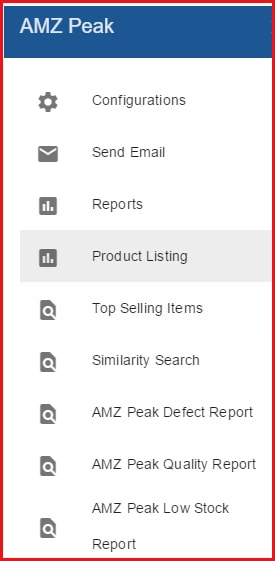 To optimize a listing for a specific listing, (perhaps one that has experienced a drop in performance) AMZ Peak allows you to search for a product by simply typing the ASIN into the search box.
It doesn't matter how your item was listed, the app will return information on the listing and identify possible improvements.
Don't forget to select a marketplace when searching for an item.



Viewing Your Listings
1. Linnworks Catalog
ASIN
: Amazon Standard Identification Number. This is the unique reference number given by Amazon for each product.
SKU: Stock Keeping Unit. This is a unique reference number generated by a business for internal purposes only.
Name: The full product title given to a specific product.
SubSource: The Marketplace region and Company a product originates from.
AMZ Peak Ratings: The star rating given by Amazon's standards of a quality product listing.
Users can also view their listings in detail by clicking on the magnifying glass.


This will show the user different areas of their product listing that need reviewing and how to fix them such as the Title used, as well as areas of the listing which have achieved these standards such as Total Images.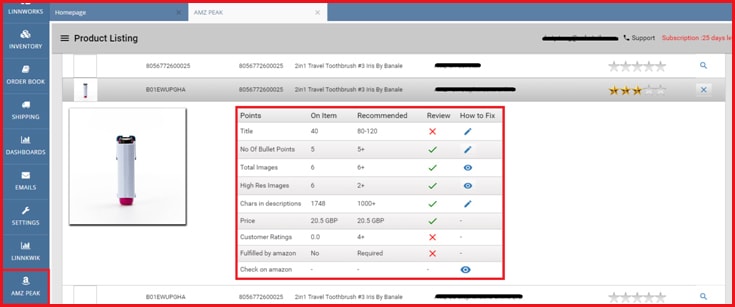 AMZ Peak assigns ratings to the identified item for its level of completion. Individual details are rated, and the red cross or green tick can be clicked to evaluate that section further. Where the item is one you have listed, you can make and apply updates.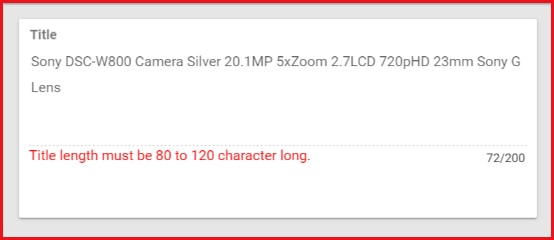 2. ASIN Search.
Enter the ASIN, then click Find.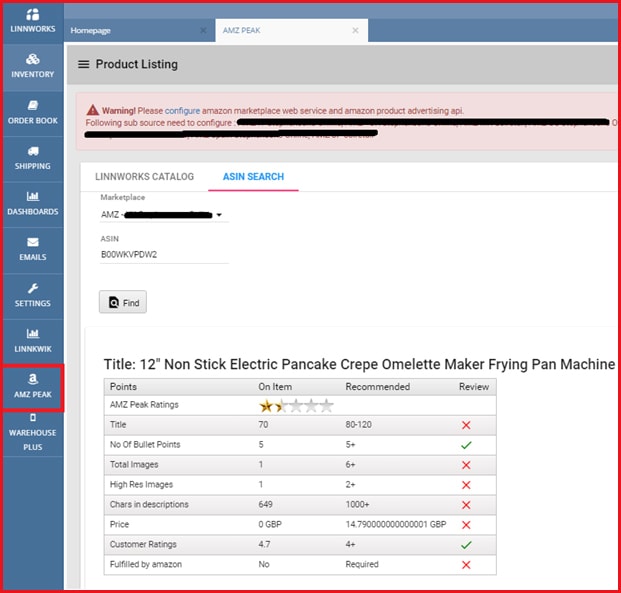 You can search the Amazon catalogue for information on items you're considering selling using keywords, categories or other data. AMZ Peak will order the results by Amazon Seller Rating, giving you access to information about the product's listing. You can also search for specific items using keywords and categories, to find the ASIN.
If the ASIN is valid, the search should return more detailed information about the product listing.
Points
: A specific area of a Product listing, such as
Total Images.
On Item: A product listing's current quality or quantity in a specific area of a Product such as 'five' No of Bullet Points.
Recommended: The best quality or quantity required in a specific area of a product listing.
Review: Whether a product listing currently meets the quality or quantity recommendation in a particular area of a product listing.
For example, in the listing above, 'Non Stick Electric Pancake Crepe Omelette Maker Frying Pan Machine' has a one and a half star rating. It is currently thriving in customer reviews, but attention needs to be given to some other points including Fulfilled by Amazon.
If the ASIN incorrect, you will get a pop-up alert message box.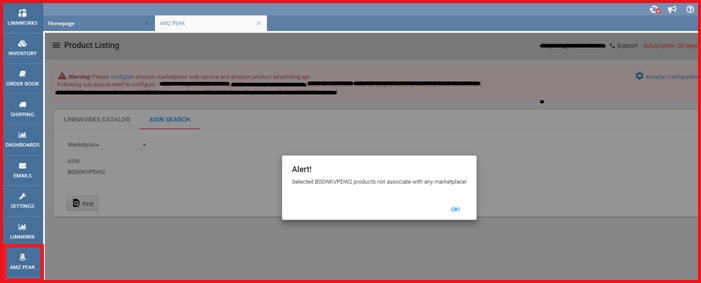 The AMZ Peak application allows you to download and export these key insights as a CSV file, so that you can use this data for offline analysis and evaluation purposes later.
Top Selling: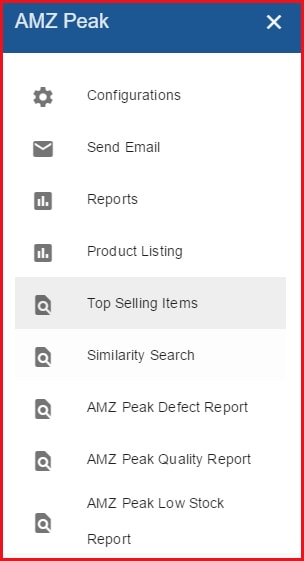 For specific categories, AMZ Peak can return the top selling items, allowing you to identify potential targets for stocking, or items that you may want to aggressively price to increase selling volumes.
When you launch AMZ Peak, you will be redirected to a screen to select an Amazon department such as All Departments or Amazon Video.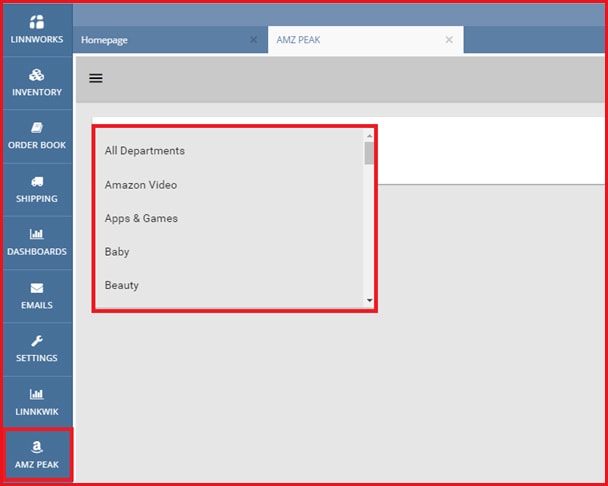 Users can search for a Category, or combination of Category and Sub-Category.
The Top Ten Selling Products will appear in your search results. Users will have the option to see a link highlighted in blue, to see the seller who owns the number one spot and their reviews for each ranking of that particular category. This allows users to understand what is involved in topping the charts, such as overall excellent feedback given in reviews. Users can exploit these insights to enhance their Amazon listings and rankings.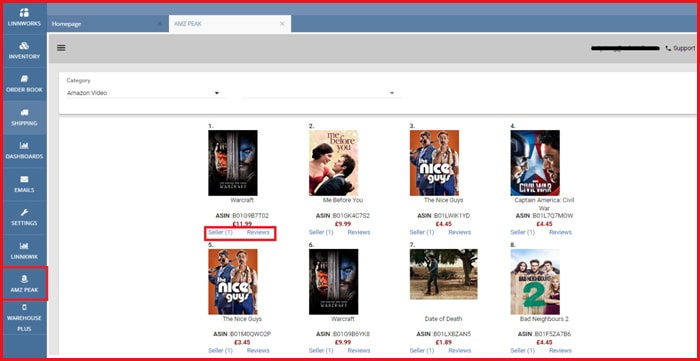 Users can also download this information for competitor data analysis purposes later for improvement.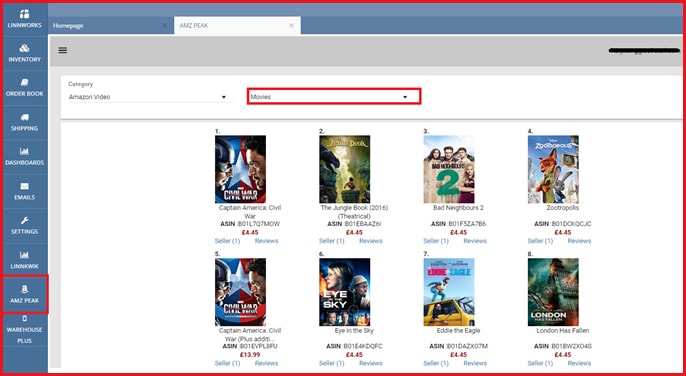 Similar Search: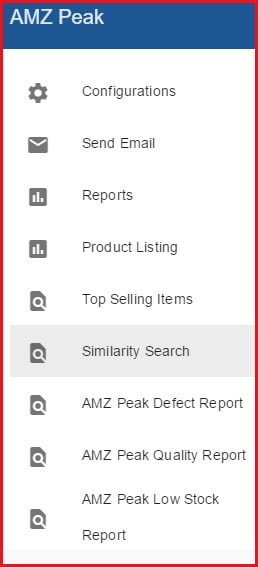 You can search the Amazon Catalogue for information on items you may consider selling, using keywords, categories or other data. AMZ Peak will order the results by Amazon Seller Rating, and gives you access to information about the product's listing, or you can search for specific items using keywords and categories, to lookup it's ASIN.
If you want to ensure your items are listed to take advantage of all particular opportunities, knowing that some people will start a new listing for a product using different titles or keywords to the more prominent listing, AMZ Peak allows you to search for items that are similar using keywords.
The Similar Search category works in a similar way to the Top Selling Items category. It can work like Google, where you type in a keyword and the most popular link associated with that keyword appears right at the top of the normal search results.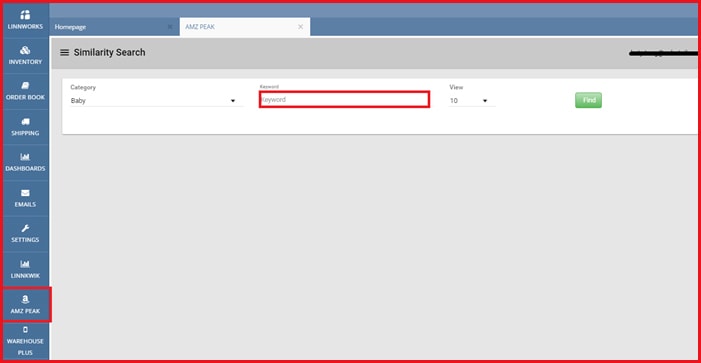 Once the user selects a keyword and how many listings they want to view, they must click the green Find button to run the search results.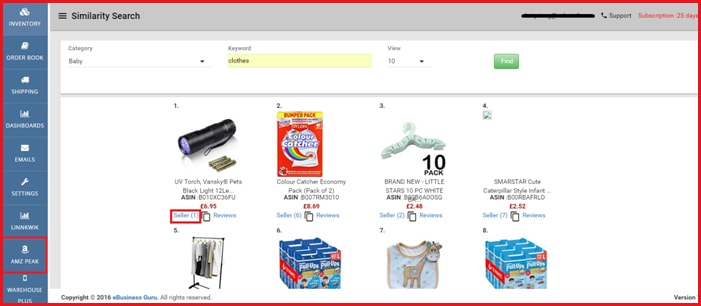 For instance, if the user selects the product category
Baby
, and selects the specific keyword
clothes
, the best items that contain this keyword will appear. The word will either be used in the
product title
or in the
product description
.
Click on Seller on a particular product to reveal full product information about a specific product.
With this particular listing, users can see that the keyword clothes does not make an appearance in the title.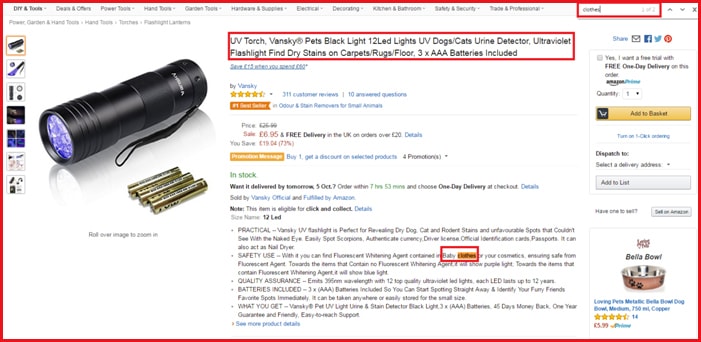 However, when the product description is revealed, it can be seen that both the product department and keyword baby clothes are used alongside each other in the full listing description.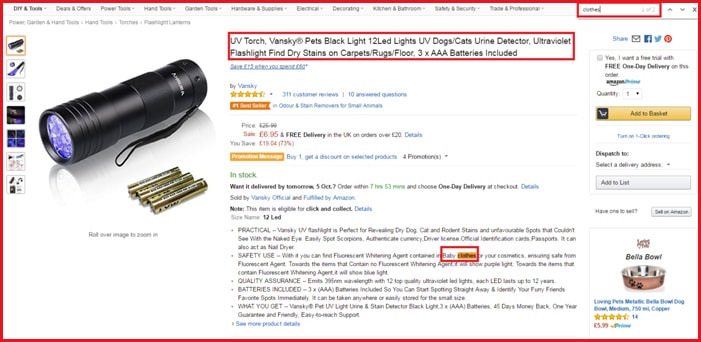 Looking closely at this listing, it can be seen that it has a great number of reviews rated four and a half star or more and only has the word baby clothes used once. This product has nothing to do with baby clothes, but is a universal product meaning it could be listed under multiple categories. This explains why it falls under the product category Baby which does appear unusual at first, but makes sense as the product description is read through by a user.
Users can also view product reviews of particular listings by clicking on reviews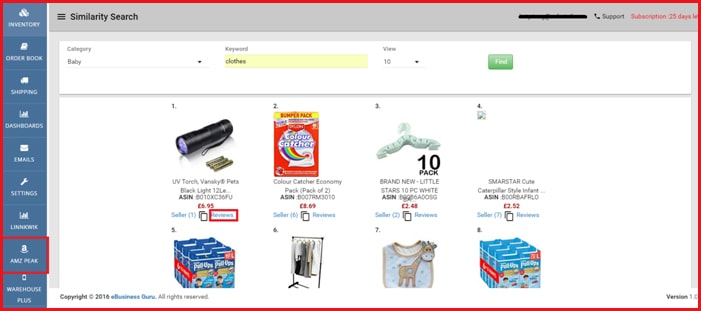 All the reviews of that particular product will appear and users can browse through these to understand how to improve on their listings.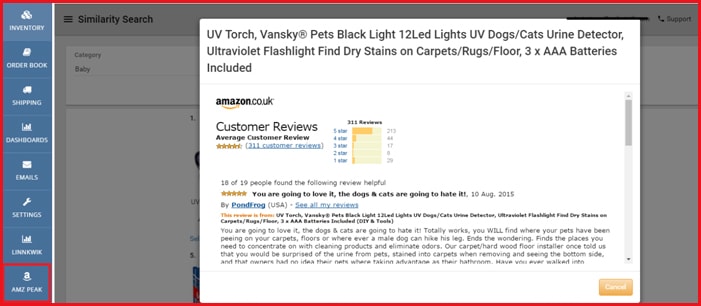 To view similar products with rankings with the same keyword and department search, click on the
overlapping window icon on the listing.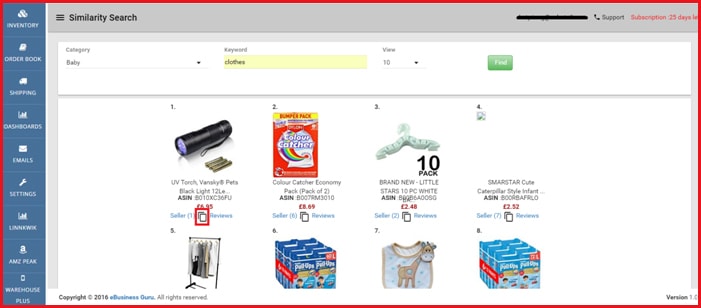 This will bring up these similar products of that specific listing.
Users also have the option to Export To CSV for offline analysis and evaluation purposes.


AMZ Peak also offers the following information to assist you in evaluating the current performance of the listings before and after your changes.
Ratings – Evaluate the current ratings
Defect Attribute – Display defects, and which attributes are affected
Sales For The Last 30 Days – Number of sales for item in the last month
Product Category – Is a category allocated to the product listing?
Description – The number of characters in the description. Check if title is used in description, as this is recommended to improve the chance of a purchase.
Defect Reports:This feature shows the users at a glance what is missing or Defects Outstanding for product listings to be optimised.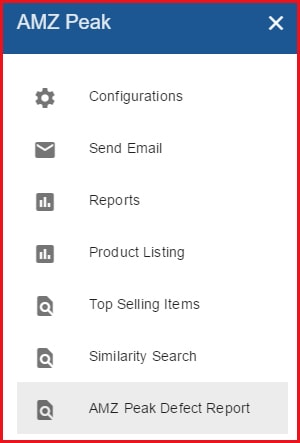 The report matches product listings to a Defect Group and will make a Recommendation Reason for the defect highlighted.
For instance, the specific defect group Missing Description and Bullets could have a corresponding recommended reason Product description is important for helping customers find your product. This will explain the reason behind a product listing appearing in a specific defect group.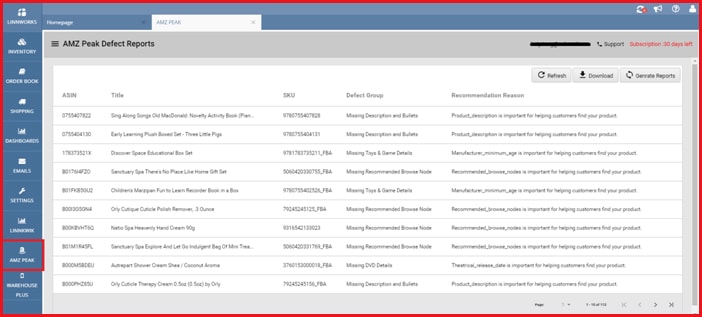 A defect report can be generated by selecting the Generate Reports button.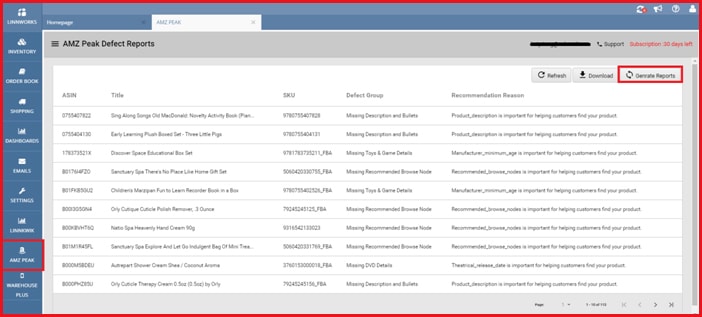 Users are able to download a defect report for viewing in a spreadsheet, as a way of managing these defects offline.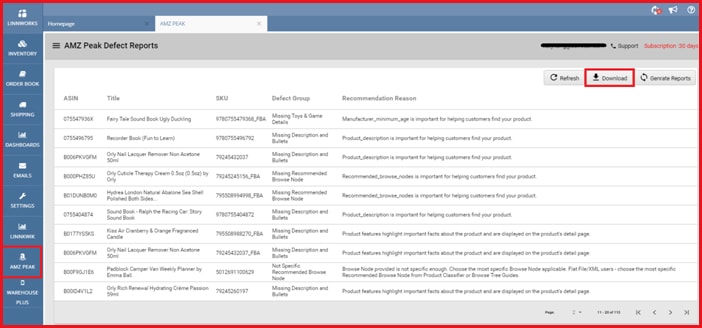 Click Refresh to ensure that the user has the latest reports generated by AMZ Peak.

Quality Reports: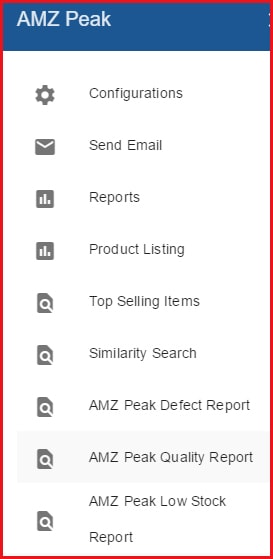 This feature is similar to the Defect Report. Instead of highlighting suggestions for improvements in product listings, the Quality Report highlights missed sales opportunities that the user could have taken advantage of if they had the correct stock levels.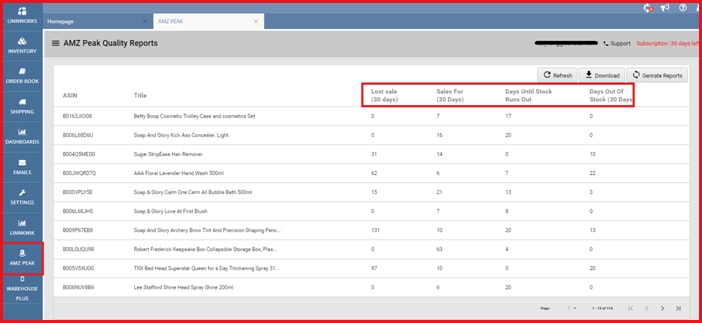 For example, here thirty-one sale orders were lost because the user was out of stock for ten days.
Quality Reports are designed to show you the maximum sales you can potentially make if you had a certain amount of stock available during a specific period.
The report has to first be generated by clicking Generate Report. For the latest report, click Refresh. To save reports offline, click on download.
Low Stock Reports: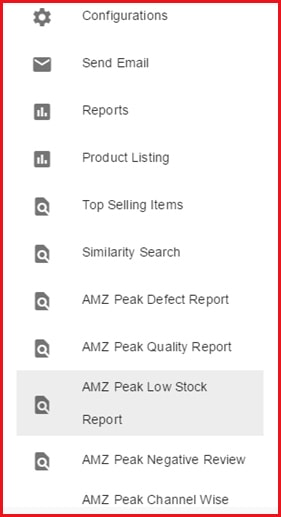 This report covers products in your Amazon account with low stock levels. This feature complements the AMZ Peak's Quality Report tool which highlights your missed sales opportunities due to no stock.
In this tool you will see information about the product's SKU, ASIN, Name, SubSource, Minimum Level and Stock Value.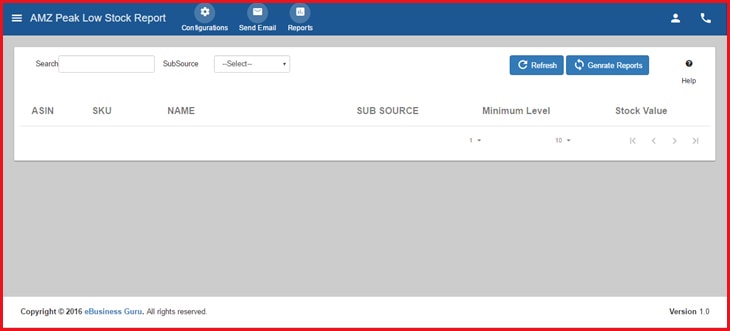 The Generate Report option requests the latest information from Linnworks account.
This report can be filtered by SubSource. You can also search by SKU, Keyword, and Name.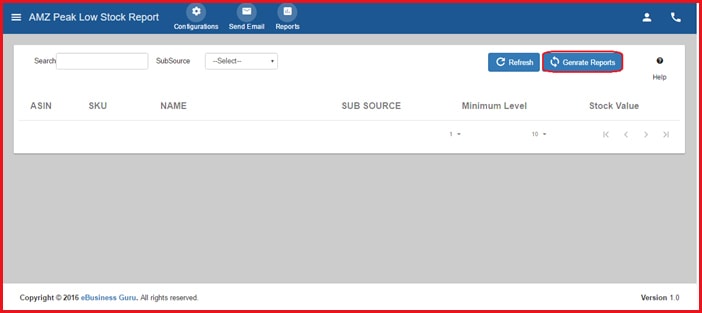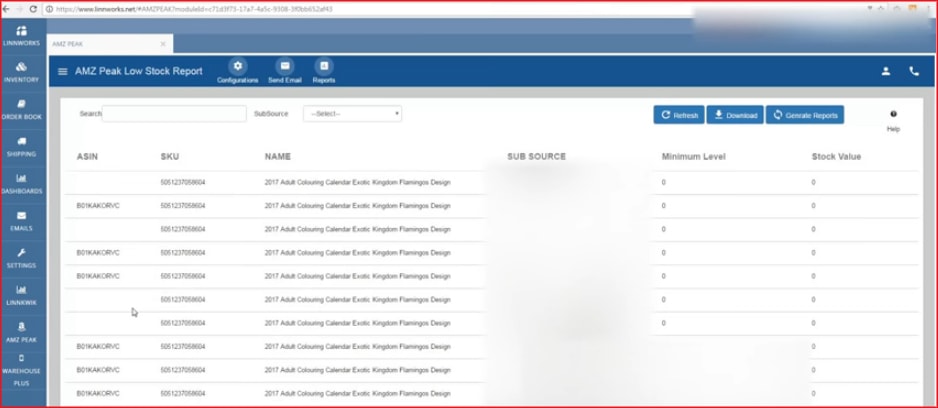 Negative Review Reports: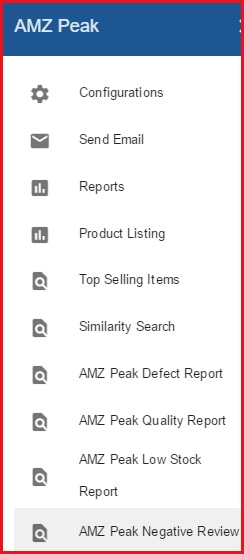 This report details the number of negative reviews you have in your Amazon account, with details.
The Generate Report option will request the latest information from Amazon. This report can be filtered by SubSource. You can also search based on SubSource and Received Date.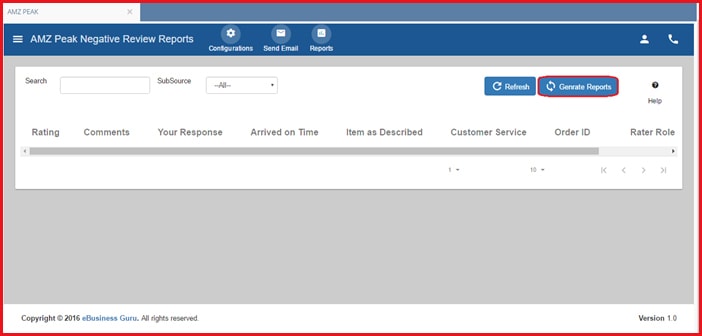 Channel Wise Selling: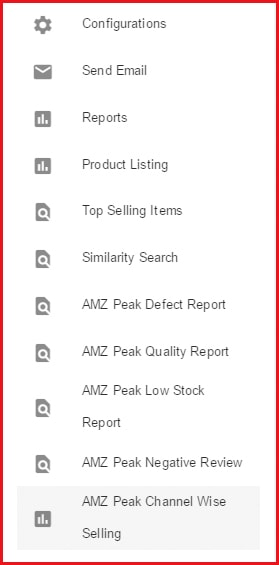 This report shows your Amazon selling information per channel.
Use the Date Range option to get the latest report from your Linnworks Account.
The report can be filtered by SubSource. You can also search on SubSource and Received Date.


The Refresh button will request the latest selling information to be downloaded.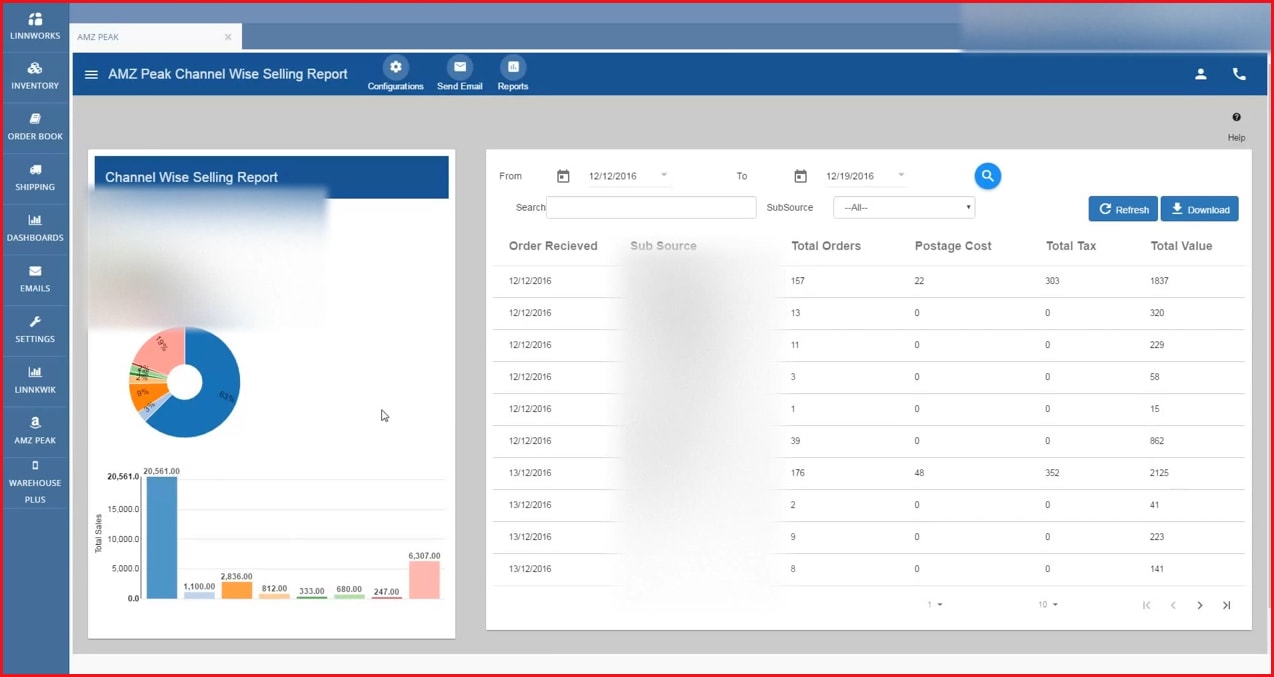 Send Email: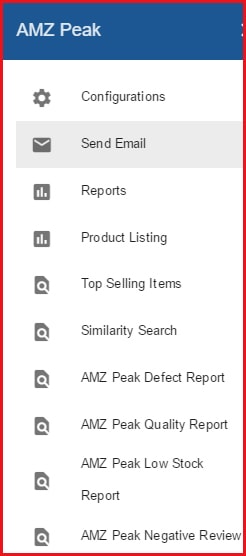 AMZ Peak will allow you to send emails regarding orders from a particular SubSource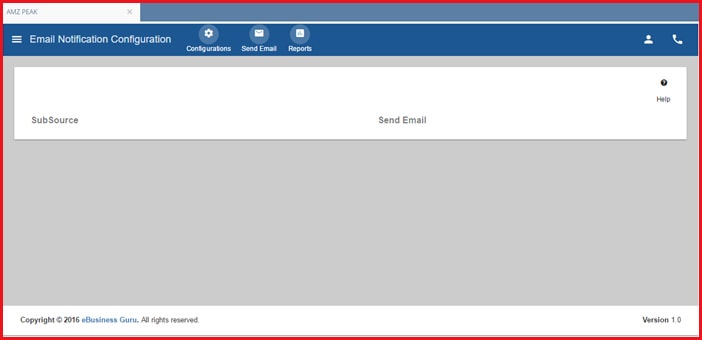 Email Account Configuration: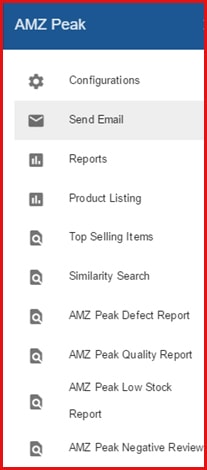 AMZ Peak allows you to set up different email accounts for use with each SubSource.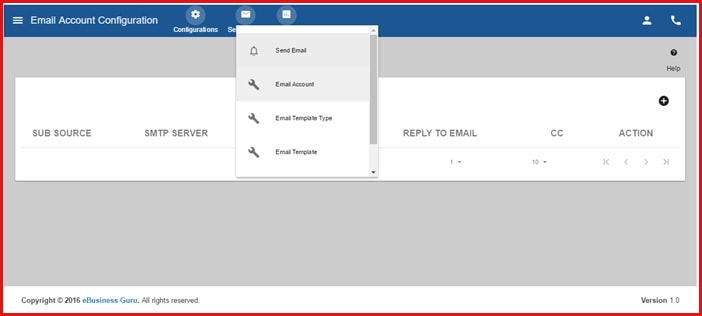 Click the plus (+) symbol to add an email account.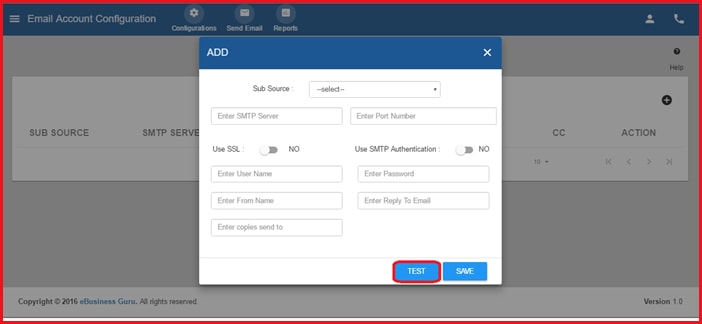 The application will then use that server and address to send emails using the template specified for the selected SubSource.
Test you to ensure the information you have entered is correct when you have configured an email account.
Email Template Type Configuration: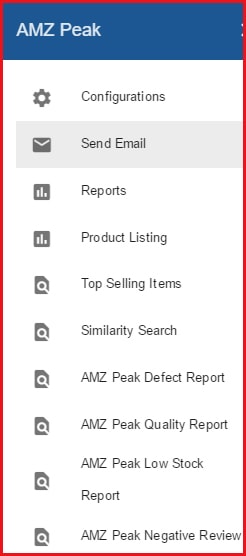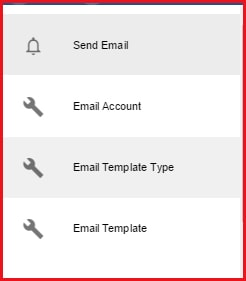 Email Templates can also be set up, with types assigned to one or more countries.
Click on the pencil icon at the end of the row to define the number of days to wait before sending the email, and the number of days to wait between sending subsequent repeat emails.
Don't forget to save any updates you make.
A search option for templates based on either country type or template type is available on the list screen.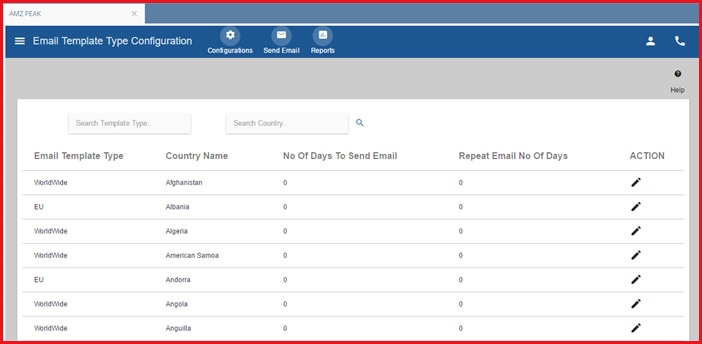 Email Template: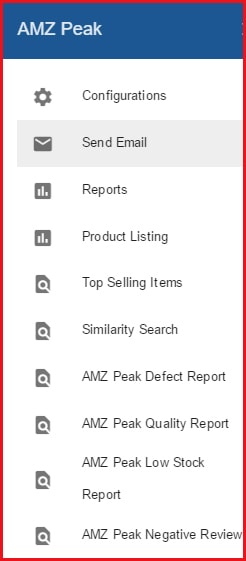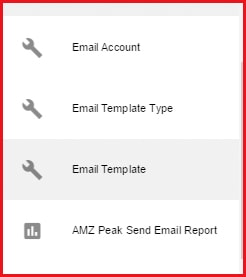 We can set up the email body (the message) depending on the relevant SubSource.
The following options are available:
1. Selecting the SubSource of email
2. Defining the template type
3. Selecting the template type
4. Subject text box
5. Tags for creating subject
6. Option for defining email body
7. Tags for adding Linnworks data into the email body
8. Body text area
The template configuration allows you to configure different email template contents for a given Linnworks SubSource.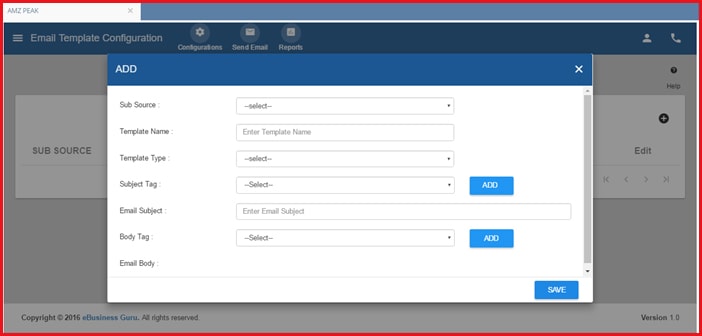 Each template has a name to identify it. You can select the template, type, subject tag, email subject, and body tags.
There are also a range of formatting controls to format the text using HTML, set text as links, etc.
Linnworks data fields available as tags:
1. SubSource
2. Customer Name
3. Order Number
4. Received date
5. Processed date
AMZ Peak Send Email Reports: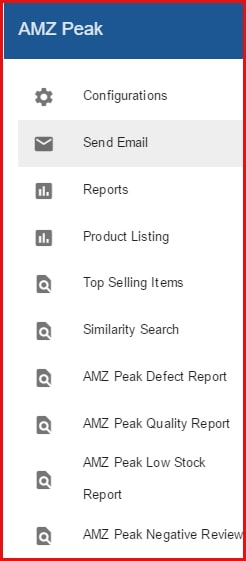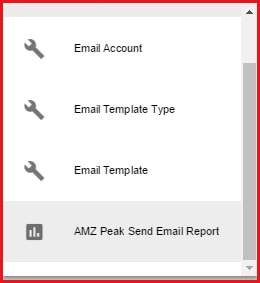 This reports the number of emails sent the current day. You can also specify a date range to see the details of sent numbers for that period.
It is also possible to review emails that have not sent, including those that have returned errors.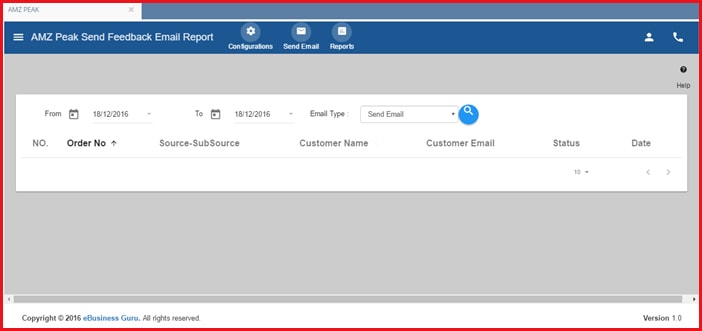 Creating & Improving Amazon Listings:Creating and improving your Amazon Listings
AMZ Peak can offer advice where it finds deficiencies, but such advice is best used in context. As such, we've put together some additional advice on the creation and optimization of Amazon listings, and what makes the difference between 'good' and 'bad' content. Below, we discuss the different parts of an Amazon listing, and what you can do to make YOUR listings outstanding.
Product Information – Before the Title and Description!
First things first – When creating your Amazon listing, ensure that Amazon knows what you're selling, so it can rank the listing well and people can find it.
Backend Keywords
– Use the same words and phrases here you're using in your Title, Bullet Points and Description. Consistency improves your search results and ranking.
Information Fields – There are a large number of fields that you can include information. Fill in all that are appropriate, to ensure you are included in the customer's searches. If they specify a value in a field you didn't complete, they won't even SEE you. Fields include Ingredients, Subject Matter, Intended Use, Colours, Flavours and Dimensions.
Improving your Title
On Amazon, titles are the first thing a customer sees when they search. Therefore, you need to include the correct information (Keywords), and present it in a way that makes it attractive to customers, so that they will click on it and buy from you. Everything else starts here, so getting your Titles right is essential – Even if you only sell to, say 15% of the people that click on your listing, the more people clicking, the more sales. If AMZ Peak raises concerns about your title, there could be a concern it's too short, for example, and not making the most of the opportunity to sell your product to the customers who are searching.
A basic title may say, for example:
Bluetooth Headphones, lightweight, hands free, long battery life.
It's functional, has some of the keywords you're looking for, but it's not compelling. Amazon allows up to 200 Characters in their title.
A better title might be:
Long Battery Life Bluetooth 4.0 EDR Stereo Headphones, hands free headset, slimline, 1 piece, Black, compatible with iPhone, compatible with Android Phones by Samsung, HTC, Sony and Huawei. 5 Star reviews, Top Seller.
This uses the 200 character limit, to include a larger number of keywords that may be used by prospective customers when searching:
Bluetooth 4.0
EDR
Long Battery Life
Stereo Headphones
Hands free headset
Slimline
1 piece
Slimline
Black
Compatible with iPhone
Compatible with Android Phones
Samsung
HTC
Sony
Huawei
5 Star Reviews
Top Seller
From the perspective of SEO (Search Engine Optimisation), a longer title isn't a bad thing, as it allows you to include more information. It's always worth monitoring the performance of your listings where using long titles to ensure the click through rates remain constant or improve, otherwise you may need to re-examine the title and adjust the keywords used.
Images – Show your customer what they are buying
Amazon offers you the ability to use multiple images to show your products to your customers. Use high resolution, clear images, with clear views from multiple angles as well as detail shots – 6 of the available 9 slots would be a minimum (Front, back, left, right, top and bottom). Images are used as one of Amazon's criteria when ranking your listing, and the higher the rank, the more likely customers will see the listing.
Human beings react strongly to visual stimuli – Having a clear, detailed image in the search results alongside a well written title will help your listing rank well, and encourage customers to click on it.
By high resolution, we're talking 1,000 pixels on each side– This is the size that Amazon allows the zoom function for customers, so they can satisfy their curiosity there and then. At this size, make sure the images are clear, and attractive (Well lit, good colours) – Blurry images will put people off, and remember, if there is evidence of Photoshop being used, Amazon will be likely to remove the listing.
Clear images help to convince the customer to click on the listing in the search results, and also helps to persuade the customer to stay on the listing, reading the bullet points and description, and to buy!
Bullet Points – Keep the client's attention after the click
Amazon allows up to 5 Bullet Points. These appear front and center on the product listing, and are a great tool to keep the customer's attention on your product, so they'll buy there and then, or move onto the product description to convince them to click. The Bullet Points are high profile headlines, and about the most prominent space other than the title which Amazon gives you to promote your product's desirability. Always do your best to use all 5, as it's valuable and free advertising space. AMZ Peak will warn you if it thinks you are under-utilising your Bullet Points, as they have such potential for drawing customers in and motivating them to buy.
People will tend to scan the Bullet Points, so use capitals properly, to reassure the customer it's been written with thought and consideration. Don't be afraid to capitalise words for emphasis – just not every word!
Don't be afraid to use the last bullet point for something special to close the sale– Emphasise bulk discounts, or offer a promotion code from the seller promotion manager – Reward them for reading, and build a bond with the customer.
Use your keywords – Just as you used keywords and phrases in your listing title, try and use them in a natural way in your bullet points, this improves the search ranking further. By natural, we mean in a complete sentence, so it doesn't read as being forced. This doubles as reassuring your customer they have come to the right listing for them, seeing phrases emphasising what they were looking for. In all areas of written work that reach customers, spending time to make your writing flow and appear natural while including important phrases will show you benefits by attracting and persuading customers to engage with you and your products.
For example:
LONG BATTERY LIFE – Using Bluetooth 4.0 EDR technology, these slimline, black headphones connect wirelessly and last all day on a single charge.
CONNECTS TO ALL COMPATIBLE DEVICES – iPhones, Android handsets from Samsung, Sony, HTC, Huawei and others are all compatible with this headset/headphones, connecting quickly and easily.
HANDS FREE HEADSET – Don't just listen to your music, make and answer telephone and Skype calls with your phone in your pocket, and no wires in the way.
SLIMLINE – Lightweight and attractive, these black Bluetooth Headphones are easy to put away in your pocket when they aren't being used, and can be charged with a standard micro USB charger.
Save 25% when bought with one of our armbands. These headphones are great for runners and joggers, so buy them with one of our armband range using code HEADARM25 to save even more on our existing great prices.
The Product Description – Persuading the customer that they have the right product
Having convinced the customer to click on your listing, the Product Description is used to convince them it's the right product for them, and complete the sale. Make sure you've got as much relevant information as possible, to ensure people can find the item, and want to buy it once they have found it.
Pitch your product to the customer, answer all of their questions
Amazon expects full product information here, so look at using at least 1,000 characters – Emphasise the key features and benefits of your product, why it's unique or different to the competition. Sell the product as the solution to the customer's problem, creating a connection that will persuade them it's the right solution for them. More information is better, as if they have to go to another browser or tab to look up information, then you may not get them to come back! Identify the top ten questions for the item, or for other similar items, and answer them in the description text. Make sure you get your work proofread – Small mistakes can break the flow of reading.
Structure your text to control how it appears to the customer
You can use basic HTML tags in your Amazon description, such as Bold, Italics and Line Breaks. These help you to separate different parts of the description, and emphasise key points or terms. It also stops your description from becoming a big, intimidating block of text that may discourage the customer from reading it.
Keywords to improve the search rank of the listing
Keywords aren't just for titles. Use all the keywords that make sense in the context of your content, to make it easier for customers to find your listing, and ensure that your text reads well, and flows naturally. Awkward use of keywords or phrases may give the customer a reason to look at other listings or sites without purchasing.