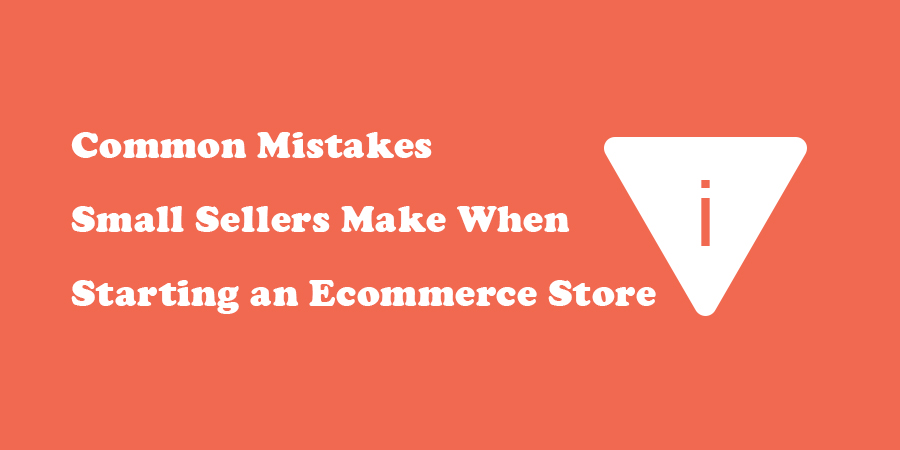 [dropcap]E[/dropcap]very online seller wants success in their business but somehow they face many issues regarding their newly created store. We conducted a long meeting with our ecommerce specialists, who have worked on 200+ new ecommerce projects, and all came to a list of consensus of what small business owner are generally making mistakes when they decide for a new online store. Here, I would like to display all important mistakes and why should one avoid it to gain more advantage.
1.  No Specific Business Plan
Many small businessmen are worried about business plan because they don't have specific plans and strategies for their new website. I am not talking about one of those detailed 50-page documents here that tries to obstruct and solve every possible issue before it happens. I am just talking about contemplating and addressing the following issues.
Think twice about what your products and preferable markets
Know who your basic targeted customers are
Know what they generally want and how your products beneficial for them
Analysis your key competitors are, try to know their weaknesses and strengths also follow their strategy as much as possible
Compare your strength with your competitor weaknesses and visualize in market by product
Are your prices or position really competitive in market?
Make sure your online presence highlights your point of difference.
2. Underestimating Focused Work
Many people are entering in the eCommerce business with intention of easy way or earn fast money, hence all the idea you will have to do is take orders and deliver products. While eCommerce business is alive in the ethical cyber space, it requires strong attention, learning and physical efforts to operate, grow and maintain the business.
Outsourcing maybe considered an important element of the business, however, being able to have as much visibility and control as possible in-house is often the most cost-effective solutions, especially in the early time of the business. In the time you need to understand and get into proper plan that you are setting up a business just like any other or competitor, this one just happens to be online. Your success comes closer as per your input and involved team dedication in the mission.
3. Lack of Marketing Strategy
Unfortunately, offline marketing doesn't give positive result in eCommerce as far as it is concerned with the internet; in other words it would be good to avoid offline marketing strategies. It's simple, you are going to explore your business to the world and that would be online, customer can come from anywhere. You should know which place is more important for your business and how can you provide to them if they are in your location. Find below some more points:
For your eCommerce Store you can measure/track your customer by Google analytics and other analytics tools
SEO and PPC both are different in online marketing; you have to know difference between them
Know the power of social media for eCommerce Business
You should explore your business by affiliate marketing, discount programs, selling through third-party
Use different Comparison Shopping Engines (CSEs)
While it is amazing at first, online marketing strategies are well documented and we should not ignore their advantages. You can measure what works and what doesn't or works less in your business. Online marketing can do many things, but you need to understand it properly, however in some stages of your business cycle you may need a SEO expert and PPC professionals
4. Wrong Ecommerce Platform
Our specialists analyzed that most new comers don't know about top rated eCommerce platforms, and are confused to choose one. We always recommend the best one because we believe the right eCommerce platform is a part of successful online business. On the other hand, if you make a mistake, the wrong choice can make the whole experience very frustrating.
Well in your ideal eCommerce Platform you need to establish what functionality you will require, it will be for both, for the visitors and for the back-end management, and what resources you will have on-hand to support the ongoing management of the website. Generally, this will help you to execute what solution is right for you.
There are two main ecommerce platforms you will likely be choosing:
Customized development in Magento or WooCommerce or Cs-cart
A hosted ecommerce solution like Shopify.com or Esty.com
The Popularity and reputability indicates that a platform has been well-tested and is updated regularly. Also, you should be aware of your own technical abilities when considering the functionality that is available for the platform. Moreover, ensure that your newly created store will be able to provide an optimal user experience from the home page all the way to checkout. This user path is one of the most important aspects of your website.
5. Poorly Displaying Products:
One of main aspects of the website and mostly neglected often, many business owner just put an image of the product, name & price and buy option. This is not good in terms of a trustable vendor. It is essential to understand the customer needs, ensuring you include high-quality, clear, good-sized photos for all the products you stock. You must include good product descriptions that include essential information such as measurements, size, colour, price, delivery charge if applicable and anything else that may help a potential customer to make a purchase. Displaying accurate information increases consumer experience, resulting in more sales.
Since you are newbie, you will not get more and more chances. You have only one chance to present your product to the customer. Once you have won their trust they will keep buying your products as and when you offer more and new ones. This is the place to put maximum efforts to attract more visitors.
6. No Use of Marketplace
Many small vendors concentrate only on one source while they miss out other revenue generating and popular sources. Premier marketplaces like Amazon and eBay offer you to sell and enhance online selling.
Moreover, they allow you to design your own custom store, if you have less time and you not are able to handle numerous channels you may use a Multichannel eCommerce Software. By integrating your website with multiple ecommerce channels you don't need to login in each website. In short, you can operate many marketplaces from single system.
See related post: Why Online Sellers Need Multichannel eCommerce Solutions?
There is no doubt, eCommerce is great source for bricks and mortar store to expand their customer base, as well as great place for dreamers to start successful online business, after all today's big stores were started from smaller shops. So this is the best time to setup and create a methodology for a new business. Do your best research and put in good efforts and success will follow.