eBusiness Guru have worked with Abid from ASAB for over seven years, and we've watched the business grow from a one-man operation selling just one line to a huge eCommerce success story during this time. ASAB now has a team of more than 40 staff and the company carries over 100,000 SKUs, selling through eBay, Amazon and Groupon, amongst other marketplaces.
eBusiness Guru helped ASAB switch from ChannelGrabber to Linnworks around two years ago when they found that ChannelGrabber no longer fit their needs. Linnworks has helped ASAB grow even further and we're thrilled to be part of their success story.
What made you pick Linnworks?
About two years ago we found we needed a better system than ChannelGrabber, and Linnworks was the system we decided to go with. When we were looking at Linnworks, I got a demo and it made sense to me that we could manage our inventory and do everything in one place. Linnworks had everything in the sense that we could put our monthly listings into one inventory, the way it works with compositions, and you can do a lot of very complicated stuff with it, it's a good system.
When you first adopted Linnworks, how did your staff adapt? Was it easy?
Some parts were easier than others, but the complicated parts we worked on with eBusiness Guru. They provided us with Linnworks training and we worked with them quite extensively in terms of stock control, inventory control, locations, order processing, printing, everything really.
Since you started with Linnworks, we've worked together on a number of Linnworks apps ideas, (Abid helped us develop the ideas for our Warehouse Plus and LinnKwik apps) what are your thoughts about the apps?
There's loads for Linnworks, we're starting to use them more now and we're planning to go a bit deeper into using them in 2018. We're using AMZ Peak for research at the moment which is helping us get the information we need.
There's plenty of things we'd like to add to Linnworks, but like you say, through the years we've found solutions with eBusiness Guru which we've found works pretty well.
What's the best thing about Linnworks over ChannelGrabber?
There's loads better with Linnworks, you can't just say one thing! Things like order printing makes everything simpler, you can have your custom pick lists, you can write scripts to put orders through to different systems, then there's the purchase side where it can automatically forecast sales. It's not just one thing, there's a lot of things about Linnworks that make it worth it. It's really fast moving, which we really need in our business.
How do you find working with eBusiness Guru?
eBusiness Guru are always good to work with – there's always someone to talk to there!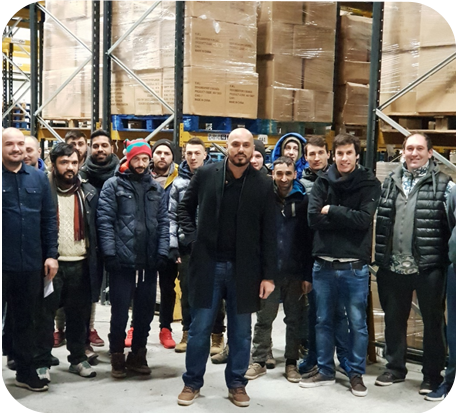 We're always glad to see success stories, particularly when it's one of our long-standing clients. We see a long, happy and successful future working alongside Abid to help ASAB go from strength to strength. If you'd like us to help your business to grow the way we've helped Abid, get in touch