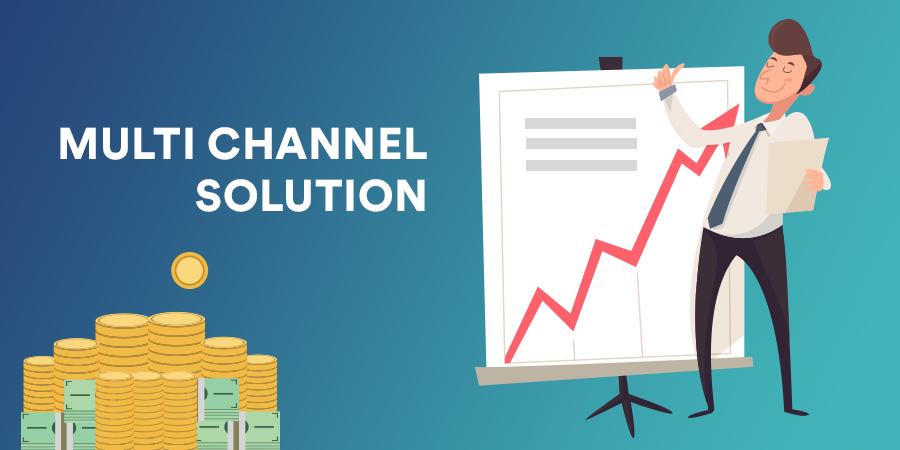 [dropcap]I[/dropcap]n ever an increasing demand of online marketing, the working style has gradually changed. In rapidly changing lifestyle, customers do not have plenty of time for in-store purchases. Thanks for advent of internet with which it is easy to run a commercial business from the comfort of home. Looking at customer demand, a lot of merchants have prioritised to employ an eCommerce selling over the Internet.
If you are thinking of ways to increase your sales at various channels, then I have a perfect solution for you: MultiChannel Solutions. This approach has become widely popular in past few years and currently it has gained dependency in order to discover best solutions for eCommerce.
Multichannel Software
It is designed for businesses to promote their products on various channels by integrating through various selling channels. The process of listing products will allow customer to access real-time information including the ability to control their stock and inventory.  Here's list of some selling channels that allows listing some products.
eBay
Amazon
Buy.com
Pixmania
Sears.com
Multi-Channel Software can also be integrated with bespoke Shopping Cart Platforms like:
Magento
Zen Cart
BigCommerce
Virtuemart
PrestaShop
X Cart
 A Simple Definition of Multichannel Solutions
A Multi Channel solution is basically a software that includes various tools which offers easy and flexible services for Online businesses. In order to promote products, sellers can easily use this software to their maximize revenues. Multi Channels solution helps the sellers to sell products via various channels, bespoke websites and public marketplaces. The software is well linked with multiple sales channels. It provides you great features like:
Merchants have the option to sell one product via multiple channels.
It controls inventory according as per seller's wish.
It automatically updates/relist price changes in real-time
It has the capability to handle barcodes
It gives merchants the power to sell product with different title, different description and prices at various marketplaces.
Why you Use Multichannel Solutions
This software has ability to integrate all the channels into one single interface,  with which sellers can easily increase selling of item from various market places, it also capability to control their stock and inventory.  The solution also has other powerful features like automated inventory from a choice of channels thereby making it easy for sellers to list their products and catalog.
Many merchants want to become successful retailers over the online, but only a handful of them succeed in their goal. Stock and inventory control system play a vital role for every business. If merchants do not have a strong command on such techniques then becoming successful is difficult for online retailers.
Quality of Multichannel Solutions
The software is designed with a niche that is of the utmost quality
Inventory Management & Stock Control gives you a definitive command over how you sell your products across channels. It also ensure to notify you when stock levels are running low so you make a purchase order.
Shipping management is designed in a way that is capable of handling multiple courier companies and allows choosing the best one based on shipping & packing rules.
It is equipped with a template designer that allows designing custom invoices, pick lists, packing slips etc. Since it allows integration of barcodes, it seamlessly allows you to print the same.
Multi Channel eCommerce solutions provide the customers a trustworthy eCommerce service. In my opinion, to sustain in eCommerce Industry in the 21st century, sellers have to use smart strategies. Without these, one is likely to be outranked by competition. It is vital that running an individual website might not be enough, and one should consider entering into other marketplaces. If you wish to know a quality oriented multichannel software, you should in to the Multi Channel Software by eBusiness Guru.