We've talked about the direct-to-consumer retail fulfilment method DropShipping on the blog before, and how it can be used to expand your business dramatically. Today, we're posting two blogs – one for sellers and one for suppliers, so that you can pick which one is most relevant for you! If you're a supplier and are looking to increase your inventory and your profits, check out our post about DropShipping as a DropShipper.
As a DropSeeker, you can be listing your DropShipper's products in less than an hour, meaning you can be growing your business – and your profits – almost immediately!
Why become a DropSeeker? 
DropShipping allows you to expand your inventory almost limitlessly, without investment in stock or needing a warehouse to store it in. You'll have better cashflow, because you'll only need to pay for the items once your customer has paid you, and you can even test the waters with other products or in markets overseas with no risk by choosing strategically located DropShippers. And once you've done the listings and taken payment, your job is done – you don't need to deliver the product – your DropShipper will take care of that.
Or, we can put it another way: it's going to increase your order volume and profits, with minimal effort!
How do you get started with DropShipping?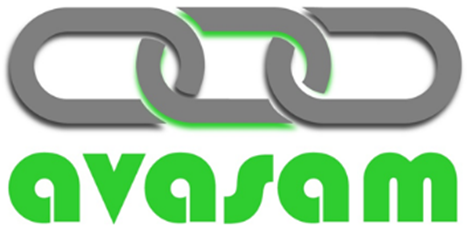 There's the hard way – approaching all the companies you'd like to list the products of and using complicated file exchange methods – or the simple way, which we imagine you're more interested in. And that simple way is avasam.
What does avasam do?
avasam connects DropShippers and DropSeekers, automating the processes that have traditionally slowed the DropShipping process – particularly in relation to payments, but avasam also minimises the need for interaction between DropShippers and DropShippers.
The system flows starting from the customer following the flow of an infinity symbol, with avasam and the DropShipper in the middle, with avasam automating most of the tasks required. All you need to do is create the listings, then make the payments when your customer has paid you.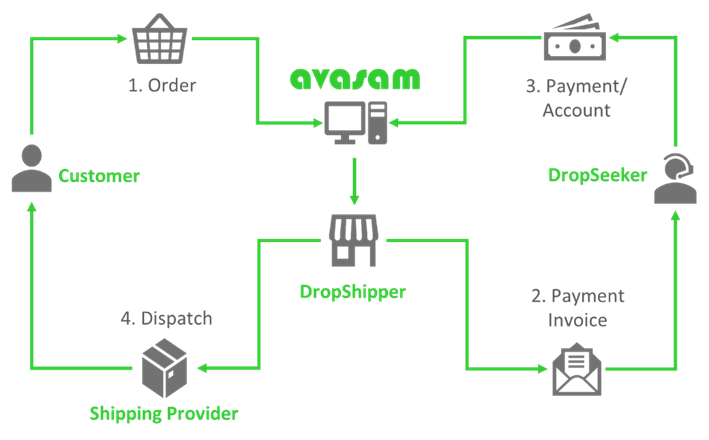 avasam features we know DropSeekers love:
Connection to existing systems means that you can continue to manage your orders in the same way you always have – whether you use order management software or not
Direct connections to marketplaces including Amazon and eBay means that updates and tracking numbers are sent to customers automatically with no additional work required by you
Secure payment methods using PayPal, Stripe or pre-approved account credit mean that you can be confident your payments are received
Rating & feedback system makes it easy to identify good service and professionalism for DropShippers and DropSeekers and helps you select the best fit for you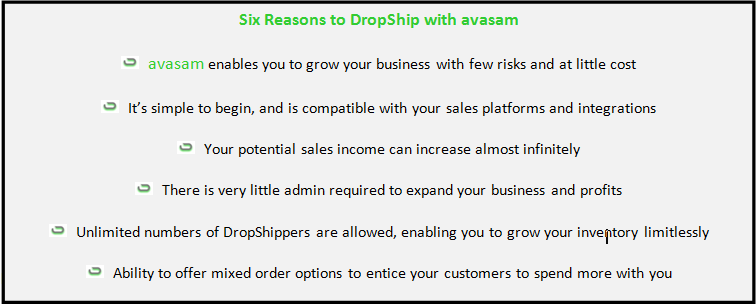 How to get started
When you sign up for avasam, you choose your DropShippers, then request approval from them. As soon as you have been accepted by them, (which could be in less than an hour, particularly if you know them and give them a call!) you can start listing your DropShipper's products on your usual channels – and away you go! avasam can be completely integrated with multi-channel systems such as Linnworks, meaning your DropShipper's stock appears in your inventory alongside your other inventory automatically, and orders are passed and updated seamlessly.
If you have any questions, or would like assistance connecting your systems, get in touch – we're happy to help!